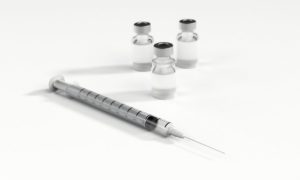 Raleigh Allergy Shots
Allergy shots, also known as allergen immunotherapy, are a method of dealing with moderate to severe allergies. It is a long-form treatment that over time stops or significantly reduces your allergy attacks. Allergy shots are injections you receive from your Raleigh primary care physician regularly over 3 to 5 years. These injections contain a very small amount of your allergy trigger – pollen, dander, mold, dust mites, and many others – and over time your body will start to build a resistance to it, similar to a vaccine.
Med One is proud to have partnered with United Allergy Services in bringing immunotherapy to the Raleigh patient population. Each patient is individually tested which allows us to formulate a very specific serum designed to address your unique allergies.
Why Get Allergy Shots
Whether you should or shouldn't get an allergy shot is best determined by your Raleigh primary care allergist or immunologist. However, people who suffer from severe allergy attacks are good candidates. Your Raleigh primary care clinic can determine whether an allergy shot would be optimal for you based on:
the severity of your symptoms,
the length of the allergy season,
if your medication or environment is not helping your symptoms,
if your medication has bad interactions with other medications you're taking,
and your availability for treatment.
What Kind of Allergies Can I Control with an Allergy Shot?
Allergy shots from our Raleigh allergy specialists can help control a wide variety of allergy triggers. Seasonal allergies such as hay fever or seasonal asthma brought on by tree, grass, and weed pollens are one form that can be treated with allergy shots. Year-round symptoms caused by indoor allergens like pet dander, mold, or dust mites can also be controlled with regular allergy shots. Insect stings and venoms, such as from wasps and hornets, can also be controlled with allergy shots.
At this time, allergy shots for hives and food allergies are not available.
How Often Should I Get an Allergy Shot?
In order for your allergy shot treatment to be effective, you will need to regularly visit your primary care provider in Raleigh to receive your injections. For the first three to six months of treatment, this will require a visit to the office once or twice a week. During this time, the dosage of allergen that you receive will slowly rise as your body begins to immunize itself against your allergy trigger.
Eventually, once your body has reached the maintenance phase of treatment, your visits will lessen to every 2 to 4 weeks based to your body's response to the starting phase and your level of allergen sensitivity. It can take up to 12 months to notice an improvement once in the maintenance phase of treatment, but at this time you should start to see a reduction, if not cessation, of your allergy symptoms.
Allergy Shot Risks
Typically, the only symptoms or reactions associated with allergy shots are swelling, irritation, or redness around the injection site. You'll need to stay at your doctor's office for around 30 minutes after your injection to ensure that you don't receive any allergy symptoms such as a runny nose, tight throat, shortness of breath, or itchy eyes. Severe reactions to allergy shots are rare and you will be monitored by your Raleigh primary care clinic during the time that a severe reaction is most likely to occur.
If you do have a severe reaction after leaving your appointment, return to your doctor's office or head to the nearest emergency room.
Meet With Raleigh Allergy Doctors
We at Med One Medical Group are proud to have partnered with United Allergy Services in order to bring allergy shots to our patients. Contact us today for an appointment to discuss your allergy treatment by calling 919-850-1300 or fill out the form below to request more information.